Once all the holiday decorations come down, my house feels so sad and plain. The urge to re-docrate kicks in for me in January, and I feel inclined to want to dress up the place again, especially the mantel. Formerly a beacon of holiday cheer, but now just back to a boring ol' mantelpiece. So, I came up with a fun and easy winter mantel decor idea to bring back some fun while also using some of the wintery photos taken over the season!
Of course, with both Dan and I being photographers, we are always snapping photos. Dan shoots beautiful landscape photos, and I am more focused on the photos of fun times with the kids. Luckily for us, we have at least a few days of snow each year and so we have several years of both beautiful and fun snowy, wintery photos. As an added bonus, this project is certainly "helper" friendly. In other words…don't be surprised if your kids want to participate by dumping glitter all over the place with you!
So I had the idea to collect some of our favorites and print them out using my favorite consumer print lab Artifact Uprising. I printed out a set of their "Everyday Prints" . They are a nice heavy cardstock print, perfect for the crafty idea I had in mind.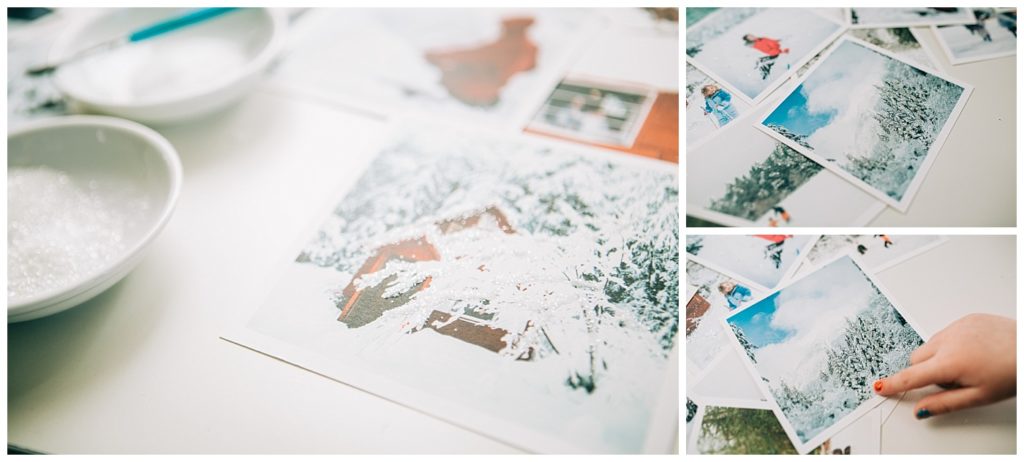 Once I had received them, I dug up some clear glitter from the craft closet and old fashioned elmers glue. To each photo, I added just a little bit of sparkle to the parts of the photo where it was snowy, and it doesn't have to be just snow! Think about where you see sparkles in nature, for this project it was snow, but the reflection of water and even a sandy beach could also work easily for this project! I even added sparkle to the rim of my daughters sunglasses in a photo for fun, and it turned out fantastic!
Once the glue had dried (*note: don't go too overboard with the glue, which can cause some warping to your photo) I put a hole punch in each top corner, found some favorite twine and connected each photo into a garland long enough to span the mantel.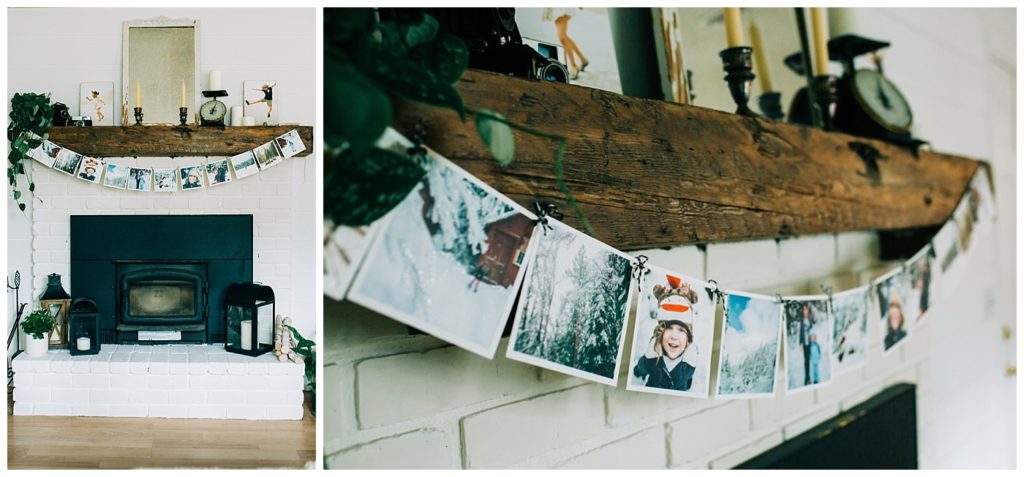 I hung it up on each end of the mantel, and viola! Now I get to enjoy some of our winter photos for a bit!
Link for resources used in this project:
Artifact Uprising (for Prints): Artifact Uprising
Iridescent Glitter by Martha Stewart: Michael's
Black and White Bakers Twine: Michael's