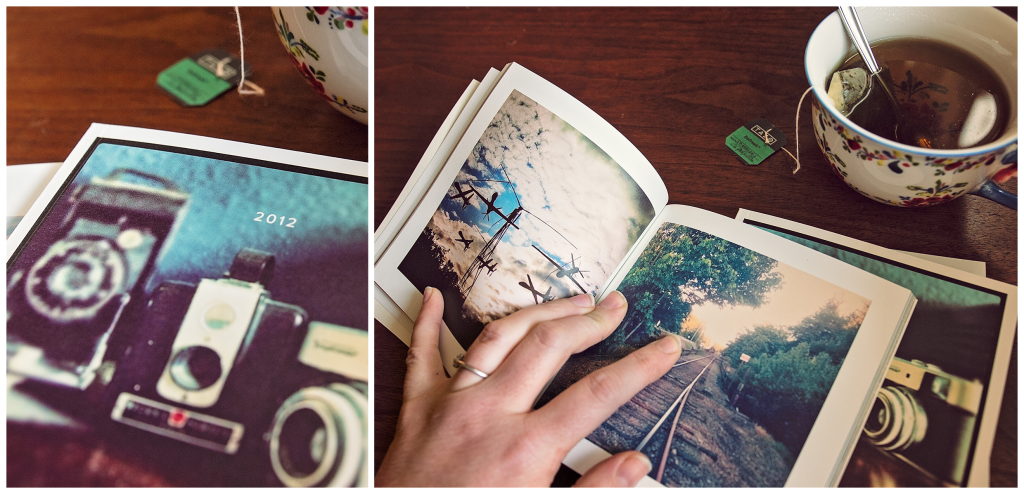 Just 10-15 years ago the only way to see a photo you had taken was to get it printed out.  Even if it was just a 4×6 print from Costco, you still had something tangible to touch and pop into a frame on your desk if it was one you really loved. Today, after you snap the shot with (most often) your cell phone and post it to facebook, or whatever your favorite social media outlet may be, it is forgotten about…but those photos still have value! They will still mean something to you and your family years from now, but where will they be? In the ether?  This year I have made the resolution to get those photos released from their technology jail and printed. Follow along with me, and take some time to get your images printed too!
The first printing project I tackled was the easiest. Dan and I completed this in one evening after the kids had gone to bed and while we sat on the couch watching TV. How easy is that? I love the photos Dan takes with his phone, and cell phones these days do some amazing things! They have great capabilities and are easily accessible at almost any moment, which is key when photographing your everyday life, or the beauty of the world around you. I had repeatedly heard about Artifact Uprising and thought it was a great place to begin my printing project! They offer a variety of products from prints to calendars to hard cover photo books. Because we were interested in printing the last several years worth of Instagram photos, we selected the small soft cover "Instagram Friendly Book". It was relatively easy to put together, as I mentioned we put together three separate books – one for 2014, 2013 and 2012, in just one evening. As with anything, it was not completely without flaw…I wanted to include a few of my Instagram photos as well as Dan's so I had to log in and out of each of our accounts in order to combine the two, but this is pretty common across all websites. Also, because we were going back to 2012, after each photo was inserted into a page I had to scroll all the way back to the 2012 photos (it always popped me back to the most recent Instagram photos). Slightly annoying, but when we make our 2015 photo album this won't be an issue. And the best part is that it is totally affordable! The small book (5.5″ x 5.5″) starts at $17.99. Our books (with some additional pages added) ranged from $20- $25. Another positive is the small, compact size….I am not ashamed to admit I have a slight obsession with scrapbooking. I have years and years of scrapbooking ahead of me, and my kids might need to get an entire storage locker for their scrapbooks if I keep going at the rate I have been going at…but these are much more compact than the old-school scrapbooks. But…I'll save the "scrapbook" part of this project for another blog post!
We loved, loved these Artifact Uprising Books! And seeing these photographs printed up was extremely rewarding! I know these books will be loved for years to come!
I know there are other websites out there? What do you use to print your cell phone photos? Let us know! I would love to try others as well.