For those of you who follow our instagram or twitter accounts, or those who are our personal facebook friends, you undoubtedly saw our rave reviews of the wonderful afternoon date Dan and I went on this weekend. I came across a Wetplate Workshop given by a West Seattle Artist and Photographer, Daniel Carrillo, and we knew it was something we wanted to try! Most of the old photos you see from the Civil War era were this type of photography, check out more info about it here.
So on Sunday, we found a babysitter and made the drive out to West Seattle. Daniel and his wife were so welcoming and we felt immediately comfortable in their home studio and workshop. Then, we went to work!  First Daniel showed us how the process worked and what steps we were to take, then he walked us each through preparing the plates, taking one another's photographs and finally developing and varnishing the final images.
I especially love the character of each image, the flaws add to it and the soft focus was dreamy. Here are the photos Dan and I took of one another respectively, along with one of both of us that Daniel took.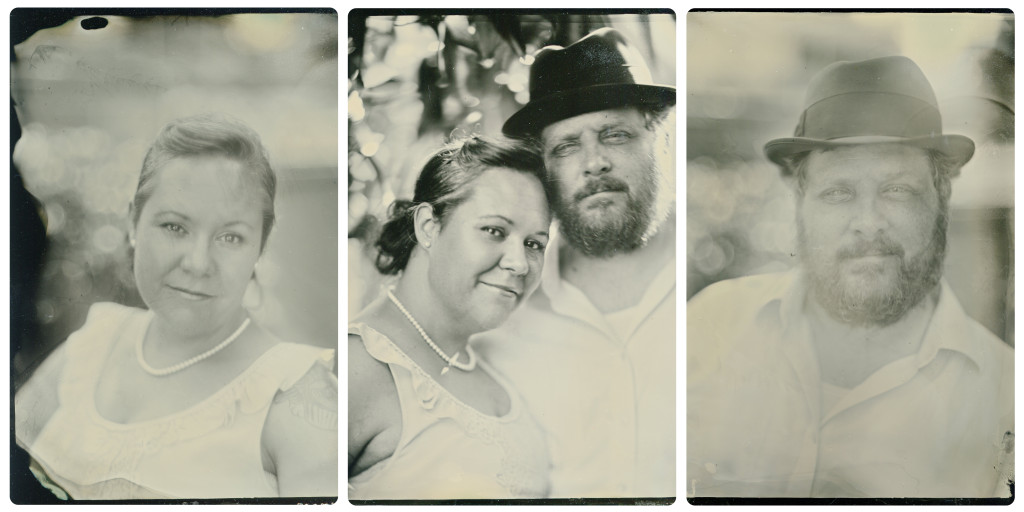 So, I must tell you something about my husband and I. We are big dreamers, and suffice it to say…BIG plans were made over dinner immediately following this workshop. Dreams including taking this tintype photography method on the road…hitting all of the festivals and fairs and having lots of fun in the process. Unfortunately, I think the reality is it is much too much. But, it is nice to dream and we had a really amazing afternoon learning all about it! Thank you Daniel for teaching us all about it!