Family Outfits for Summer Photos
Do you know the most common problem I hear when an already busy mom is trying to pull together a family photo session? Finding the " perfect"  family outfits for summer photos! You know what I mean… the Pinterest-inspired outfits, not too matchy  but perfectly coordinated. Something that flatters everyone, but doesn't clash. Something that has some "pop", but not too flashy. It's all so hard! I know from personal experience!  I am not exaggerating when I tell you was that mom who went on a mad dash to Target desperately searching the aisles for inspiration, literally hours before our photo shoot. Somehow, it all came together…but it was not my finest moment.  Or the opposite scenario, which has also happened… when I came across the perfect outfit for myself, and very soon found a cute outfit for both our kids in similar colors – so BAM! I booked us a session! Regardless, who wants to be waiting for the perfect outfits to arrive before we book a session, or worse… frantically searching our closets for something that fits and might look decent, without dressing everyone in black and white (snore)! Imagine my delight when a fellow photographer friend showed me a magical new tool called Honey Tree Style & Select .  This website does so many things, and I am so excited to share it with all of you!
In a nutshell, with this website you can:
Enter the age/size/gender of each family member (including plus size and maternity!)
Select the "look" you prefer – urban funky, bohemian, classic
Choose 2-4 color combinations
See the price of each item and link directly to websites for purchase (affordable and well known stores!  Gap, Forever 21, H&M, etc)
Put all of the outfits "together" to visually see how well they are coordinated
Find complimentary accessories!
On top of all that, at the very least, it provides some really awesome inspiration for things you might realize you ALREADY own! Just add a couple items here or there to bring the entire family look together! Maybe you have a to-die-for outfit, but you just need to find something for the rest of the family? Use this to help you! Of course, I had to put some family outfits for summer photos together to share with you! And what better inspiration than for our upcoming Vintage VW Bus Mini Sessions coming up in August! (A few slots still available, email us to book now!)  So, I have two looks to share with you!
First up –  Colorful, Bohemian Family Outfits
Mom –  Maxi Dress ($27.90)  +  Leather Bracelet ($39) Dad – Grey Pant ($59.50) + Grey Button Up ($49.90) Big Brother – Grey Gingham Top ($24) + Mustard Cords ($42) Big Sister – Crochet Vest ($19) + Red Floral Dress ($64) Baby Brother – Mustard Knit Romper ($28) Baby Sister – White Lace Dress ($20) + Moccasins ($62)
Next – Simple, Neutral Family Outfits
Mom –  White Off-the-Shoulder Blouse ($43) Dad –  Tan Pocket T ($20) Big Brother – Ivory Button Up ($35) + Khaki Cord Pants ($42) Big Sister –  Brown Halter Dress ($42) + Floppy Hat ($11) Baby Brother – Beige Stripe Sweater ($48) + Khaki Suspender Pants ($33) Baby Sister – Brown Twirl Dress ($76)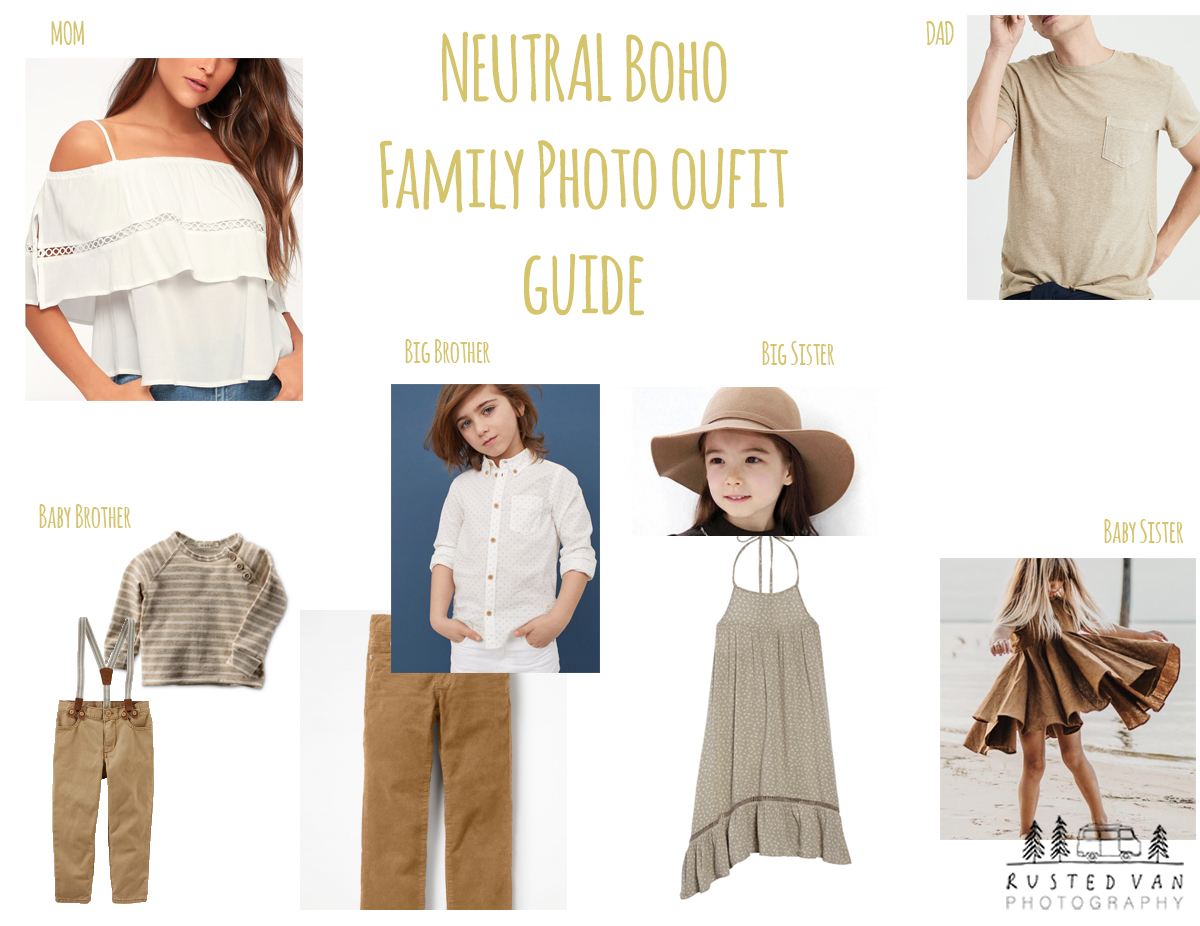 Pretty great, right? I have invested in this service because I know how stressful finding outfits for family photos can be… and I want to help! With all sessions (including mini sessions!), I will provide you the access to this website and help you as much as possible to find the best outfits for you and your family