Throughout the year, on the 10th of each month, I will be giving you a glimpse into a day in the life of the Williams family! For the month of January I chose Quincy's birthday to share with you all, Wednesday, January 6th. I still can't believe I have a 9 year old! Next year we will hit double digits! YIKES!
Confession: I am NOT a morning person, like even a tiny bit, but I still wanted to do something to get Quincy's birthday started out right, so the night prior I blew up some balloons and picked up some sprinkle doughnuts from Top Pot to surprise him. And of course, he had to have a candle in his sprinkle doughnut!
Last year for Quincy's birthday I made these "cake dip" cups, and he requested them again….although this year I kept it even easier and instead of making the full dip, I just made little cups of buttercream frosting with sprinkles and a baggie of vanilla wafers. Maisie and I dropped them off at school and they were a HIT! As soon as we walked into Quincy's classroom Maisie saw him and RAN to give him a hug yelling, "QUINCY! BROTHER! MY BROTHER!". It was one of the most adorable things ever!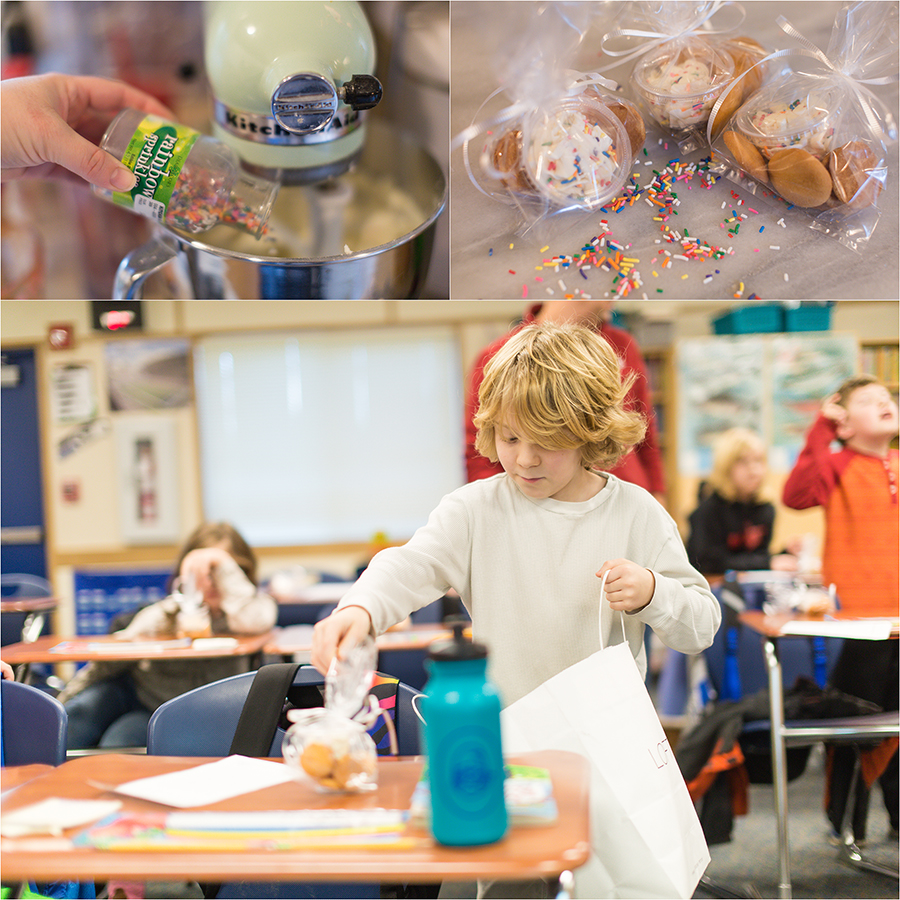 It happened to be a beautiful day out, so Maisie and I took a little "hike" on the trail to Rattlesnake Ledge. We didn't make it too far, but it was a lovely walk. We passed lots and lots of hikers, and Maisie "meowed" at every single one of them. I am not sure about her current "kitty" phase, but they all thought it was adorable, and some even meowed back at her.
Later that evening we continued the Quincy celebration! He went to a friends house to play for a little while, and then came home to his dinner request: baked potato soup!   For his birthday he had asked for something called Raspberry Pi, which is basically a little computer you can make yourself. Well, I pretended to think he was talking about an actual Raspberry Pie every time he mentioned it… and after awhile we agreed that it was starting to sound pretty good. So, I made a yummy recipe for a raspberry-cheesecake pie instead of a traditional birthday cake for dessert.
And of course, we also got him the Raspberry Pi gift, although, truth be told, he happened to be with us when we bought it (it was randomly at the book store we went to over the weekend and was 50% off…and was the only one there, so we bought it for him then), although he still insisted on me wrapping it for him. He acted pretty surprised when he opened it too. What a little ham!

I think he had a pretty good day and felt special and loved! So, all in all, I would call that a success!
Come back next month and see what a day in February looks like for the Williams family! But, for now, go check out 10 more seriously gorgeous photos taken by my friend from "down under", Jessica Mason!